05 December 2005
Silent night at former barracks
Irelandclick.com
by Francesca Ryan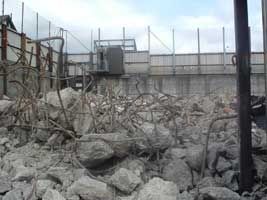 Andytown Barracks as it was being dismantled - photo from An Phoblacht
Christmas cheer has arrived at a once troubled corner of West Belfast – thanks to the West Belfast Partnership Board.
Bright lights will lighten the dark history of the Andersonstown Barracks site where a twenty-five foot Christmas tree is to be illuminated this Wednesday (December 7).
An as yet unnamed local celebrity will join children from Andersonstown to flick the switch on the tree lights and an open invitation has been extended to the people of the area to come along and enjoy the occasion.
Kathy Rea, Housing and Environment Officer at the West Belfast Partnership, is very excited about the event.
"I'd like to extend an invitation to the people of West Belfast and beyond to come and enjoy this seasonal event," Kathy told the Andersonstown News.
"The Andersonstown Barracks site is synonymous with the history of the Troubles and the base itself was an eyesore on the main Falls Road. Now it's gone, we hope the land can be reclaimed for use by the local community.
Placing a Christmas tree here symbolises hope, renewal and regeneration in a very central part of the Falls Road.
"Thousands of people pass here every day and hopefully they'll enjoy seeing the tree lit up in the evenings. I think it's fitting that a site once renowned for conflict will be a symbol of peace this Christmas."
A choir of children from St Teresa's primary school on the Glen Road will perform and Santa will also be dropping by to give treats to local children and meet and greet people under the tree.
West Belfast Partnership Chief Executive, Geraldine McAteer said: "We've received a lot of help getting this off the ground in a very short space of time. Special thanks go to the staff at Féile an Phobail, who shared their wealth of experience in event management with us and helped us plan key aspects of the evening.
"Dubbeljoint Productions have also kindly provided us with a stage. Thanks also to Curley's Supermarket for their donation of goods and Award Costumes for their help. The entire event has a real sense of partnership and a positive community feel."
The lighting of the tree takes place this Wednesday at 6.30pm.
Journalist:: Francesca Ryan